Share the Magic Inside 
~ Dare to reveal the real you and revel in your revenue ~

A 7 week online course with Kate Wolf – starting Wednesday 11th September 
Are you ready to make a living sharing your deepest gifts?
Are you ready to claim your deep knowing?
Are you ready to stop apologising for your sensitivity?
'During the 7-week journey, what was most transformational was allowing myself to trust the words that came, without the need to overthink or analyse beyond a thorough proof-read. To allow that deep knowing to say 'yes, that's it' and then hit send. There was very little agonising, and the small amount which was present was easily comforted by the group and Kate enabling me to find my voice again quickly.
Getting clear on my brand values and the essence, so I am able to look at what I'm putting out there easily and objectively – that's where the agonising disappears. There's no need because the lens is clear, so if the words / message doesn't fit it's so easily apparent.
I'm celebrating that I started a FB group challenge and am showing up repeatedly live, unscripted, post shower in a towel! I had the idea to start a bravery cold shower challenge, and just got on with it because I knew it was in complete alignment with my brand essence.
The way I feel now about getting my words and work out into the world is it's SO much more fun! There is no fear about how what I put out there will be received. Now, when I am writing or speaking in alignment, there's no room for doubt because the words take up all the space in their own right.'
'Kate introduced me to a whole new way of speaking about what I do that is so much more authentic – and much more powerful too. Because it's so much more "me" it flows so wonderfully and the brilliant thing is that this new way of speaking up is much more compelling for my audience too. I am getting many more heartfelt and positive responses on Facebook and in person, and my events seem to fill up effortlessly. Kate is a true treasure and the journey she takes you on is priceless.'
'Share the Magic inside is a uniquely crafted course for creators, innovators and women ready to deepen their learnings around marketing, branding and building an identity as a small business or entrepreneur.
The course outline is crystal clear and there are weekly creative tasks, exercises and chances to check in with the group online, all of which strengthen the vital learning and growth muscles in content creation, sharing your message and reflection.
Throughout the seven week course, I touched base with a range of the emotional spectrum!  It was challenging, supportive, a space to be open and vulnerable, and the growth edge was never far from sight!
Kate is a gifted guide and mentor who holds clear and consistent boundaries whilst intuitively guiding each participant towards their next stage of development.
Taking the course has really helped me to lay the foundations of practical and tangible approaches to branding and marketing the magic of my business. 
Thank you from my soul!'

There are so many gifts hidden in your sensitivity. Empathy. Intuition. Creativity. Ability to Vision. The capacity to see what's really going on.
Can you imagine what the world will be like when these qualities are valued as much as logic and rationalism currently are?
For 7 weeks, you will be guided through the process needed to share your soul work with the world, in a way that honours, instead of over-rides, your feminine wisdom.
You will discover how to call in your soul clients, how to make sure the feeling-quality of your brand matches who you really are, and how to communicate the value of the transformation you create in the world, just by being you (even if you don't know exactly what that is yet).
You will learn how to package your gifts and offer them in a way that feels aligned and even joyful.
Running parallel to the practical and creative aspects of building your soul-inspired business, you will be reclaiming your natural gifts as a highly sensitive human. No need to hustle or push, no over-thinking or 'busy-work', and NO over-riding of your intuition and desire. Everyone is different; no one system works for everyone.
Here you will discover your own natural route to soulful business success.  Read: to be truly successful, as yourself.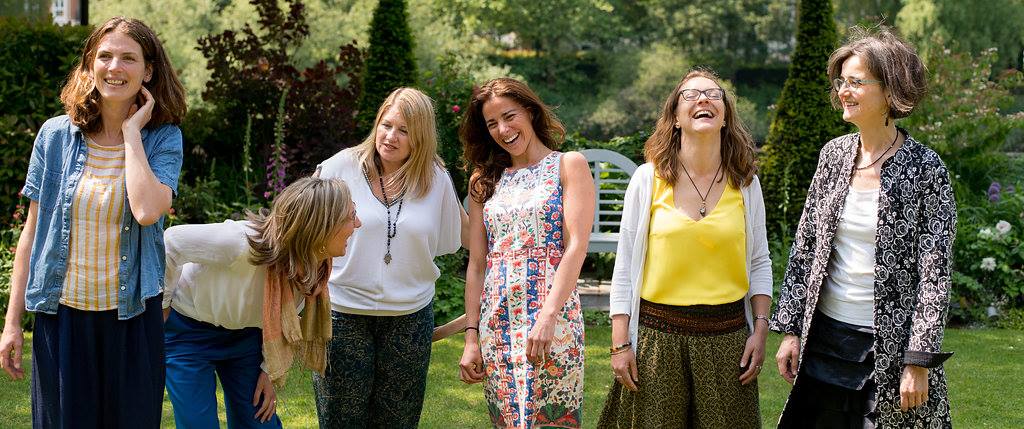 In this online course, there will be trainings, Q&A's and gently guided workshop time to write, speak and give and receive feedback.
Think of it like an Unconventional Business School.
Wait, scrap that. An Unschooling. Because when we strip away all the layers of learnt conditioning, we're left with, well, just how magic you really are.
Meet your host! 
Hi, I'm Kate Wolf, founder of the Beacons Sisterhood and Wild Voices in Business. I work with women who feel called to lead, but don't think they're ready yet. I support them to dare to trust their deep-knowing, own their unique brand of magic and share their wild voice, so that those who need them, find them. In fact, I'm on a mission to unleash the voices of a million change-makers; are you one of them?
If you know your work is about more than just making money – if it's about starting a movement, lighting a way for a new world, taking a stand for something bigger than yourself – AND you want to make more money so you can enjoy your life, have adventures and give to the causes you care about – then I'd love to support you to dare the reveal the real you, so you can revel in your revenue.
I've been teaching since I was 3 when I decided to teach my little sister how to write. Since then I've taught pretty much everything – Yoga on a roof, geography in a tent, English on a United Nations Development Program, Report Writing to the Ministry of Finance of Laos, Drama and Clowning to Adults with Learning Difficulties. I've taught Judges how to relax and children with Special Needs how to express themselves. However, what I was really doing all those times was seeing the unique brilliance of each individual and creating a safe space where they could experience and express their own magic. As a certified Coach and Personal Development Trainer, my favourite thing to do is watch my Clients embrace all of who they really are and then dare to share that with the world.
I've been called fun, playful, wise-beyond-my-years, visionary, boundaried, courageous, fiercely loving and dangerous insightful. Which means – those who want their life to stay exactly the same, need not apply. I'll encourage, champion, and create a safe space for you to share the real you – so you can be a Beacon for those who need YOU – not a watered-down, toned-down-to-fit-in you, but the full story of you. Because that's when life gets fun, and business becomes play.

Share the Magic Inside starts again on Wednesday 11th September 2019
£895 
Are you ready? 
(Doors close at midnight on Monday 9th September 2019)
~ DATES AND DETAILS ~
Share the Magic Inside starts on Wednesday 11th September
Wednesdays, 10.30am – 12.00pm, UK:
1 hour training workshop and 30 minutes space to integrate
Mondays, 11:30am – 12.15pm, UK: 
45 minutes to have your questions answered and get in momentum for the week ahead
Here's a week-by-week overview of what we'll be doing: 
~ Week 1: Embrace the magic of vision and desire ~
Clarify your Vision, Values and Purpose so you can stop trying to stand out (stressful!), and instead stand for something. Learn how to magnetise your soul clients before you even know who they are.
~ Week 2: Embrace the magic of creativity and intuition ~
Discover your natural brand – the space you create by being you. Find the essence of your brand voice so your work can become recognisable and memorable.
~ Week 3: Embrace the magic of ease and the uniqueness of you ~
Own the power and value of the transformation that you create, simply by being you. Define your business and brand promise and those who need it most.
~ Week 4: Embrace the magic of understanding and simplicity ~
Get creating! We'll package and price your gifts so you know exactly what you're offering. And to whom.
~ Week 5: Embrace the magic of empathy and your deep knowing ~
Learn how to market your work in a way that feels in integrity and fun! Discover your natural expression style and route to market. Plus, gather tools to get you in action, even when the fear appears.
~ Week 6: Embrace the magic of trust and service ~
Make your offer! Most learnings come from actually doing. So, I'll be by your side as you put your plan into action and open to receive money for your innate gifts.
~ Week 7: Embrace the magic of reflection and celebration ~
Gain clarity on how to grow your business with grace.
 ~ BONUSES TO SUPPORT YOU ON THE JOURNEY ~
As soon as you sign up you will receive my class on energetic protection which has been referred to more than once as 'life-changing' – AND
 you will be welcomed into our closed Facebook group where you can start to get to know your fellow magic-makers. You will also receive 'tilling the soil' prompts to best prepare you for this journey.
In addition to your 7 weeks of training, you'll also receive 3 magic guides from me to make sure you're fully supported:
✨ Simply Selling; how to make money using just a Facebook event and a PayPal link.
✨ How to ask for and get glowing testimonials.
 ✨ My Little Black Book of intuitive website designers, branding experts and copywriters who will get you and your work.
And a special bonus masterclass, too… 
✨ Shed the Should's so You Can Shine Bright, a 60 minute masterclass with Personal Stylist, Helen Reynolds. Transform your outer appearance to catch up with your inner growth!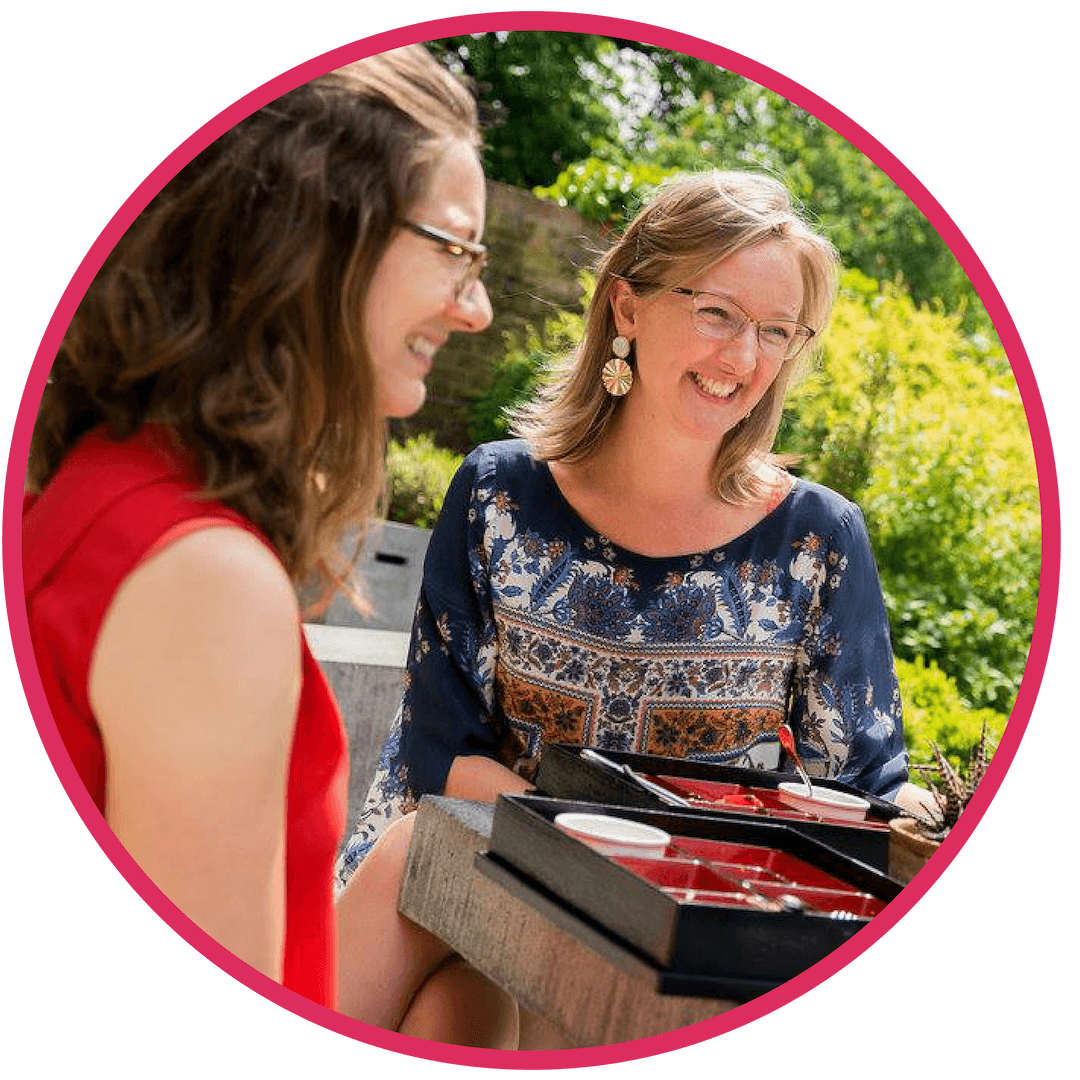 Share the Magic Inside starts again on Wednesday 11th September 2019.
£895
Are you ready? 
(Doors close at midnight on Monday 9th September 2019)
'If you're considering joining Share the Magic Inside, trust the pull towards; that's the deep space you'll end up writing from. 
Work with Kate offers you an intuitive, deep and blissful space to explore your inner workings, making the collaboration between head and heart a partnership rather than an argument.'
'Before working with Kate I was experiencing paralysing fear. 
The biggest transformation for me was finding that I truly want to coach around Legacy and actually seeing what this could be; what it means to me and how I wish to deliver it. I saw myself holding a retreat, I saw myself taking a client through steps.
Without Kate's guidance and the support of the group, I never would have started Great Auntie Hetty's Vlog or made a start on sales calls. Kate's perspectives enabled me to believe in my own ways, to grow into more of who I am instead of hiding it away and trying to squeeze myself into a "professional"  personality that isn't real and isn't who I am. 
I've realised that I am creative and quirky and that's O.K, it has a place in the world and I can now stop pretending otherwise!!!
I want to celebrate that I'm finding my own ways of expression, rather than fitting in.
I feel much more confident now, with a knowing that actually the world needs me to get out there.
I know you might feel nerves about joining, but don't miss this opportunity to be safely held as you take steps in your projects .You will be truly encouraged to define your own ways, to show vulnerability and to learn from its richness about what you are trying to do. You will be made to feel O.K. with yourself and your progress at whatever stage you are at.
Kate talks a lot about magic and daring to be your quirky self and I would definitely describe her as Magiquerkical!'
'Kate's work verges on magical, I swear! I'm so glad I responded to the call to attend an online "mini-retreat" Kate hosted, as this – while being transformational in itself – introduced me to her wider work and I'm now a member of Kate's Beacon sisterhood, had a VIP morning with her and recently attended the Wild Voices Retreat. Wow! Never have I felt so heard, so seen, so known, so understood. And so encouraged to bring the real me out into the world.
Working with Kate has been transformational, not just personally but also in my business. I gained so much clarity on the direction I wanted to take during our VIP session and I even ended up rebranding my business. I now have a brand that excites me and I feel I can really own.
My confidence in my work – and in who I am in that work – grows month on month, and I've had some great feedback from clients reflecting that back at me. In particular, a client said to me just today "I feel like you've been growing in confidence over the last few weeks and bringing more of yourself. I really love how you bring your playfulness to our sessions!"
I'm really looking forward to continuing to work with Kate and excited to grow a business that feels completely aligned with who I am and the difference I want to make in the world – and one that enables me to show up as me!! If you feel even the slightest calling to work with Kate, trust that calling! I can't recommend her enough.'

Share the Magic Inside starts again on Wednesday 11th September 2019.
£895
Are you ready? 
(Doors close at midnight on Monday 9th September 2019)